The world of sports collectibles and memorabilia has been a highly popular hobby for quite some time and ballpark memorabilia is a big part of it.
While some people do it for the opportunity to profit from the items, many more do it for the nostalgia and memories of sporting events that have played such a huge part of history. After all, the base that was used in an actual game at Yankee Stadium
becomes more than a mere item - it becomes a part of the history of the stadium itself. The owner of that piece of ballpark memorabilia becomes connected to its history in a tangible way.  Here are some of the more popular ballpark memorabilia that collectors can choose from if building a collection or furnishing a sports or rec room.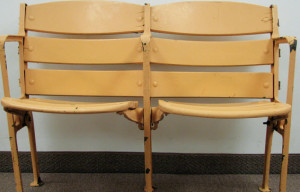 One item is a stadium seat
.  When old stadiums are refurbished or destroyed, many collectors will purchase the actual seats when they're salvages. It's become a popular moneymaker for the teams or stadiums and a hit with fans who love to continue their physical connection to the stadium and its memories by putting it on display in a sports memorabilia room. Having an actual seat from the stadium is a great conversation piece and a very unique when you consider most collectibles are pictures and autographs. You can find links to old stadium seats here at VintageBallparks.com.  Expect to pay at least a couple hundred dollars, sometimes more. Also expect to get an extreme kick out of having one!
Along those lines, a recently popular trend is to get other parts of a baseball stadium when it is demolished. It could be as simple as a vile of dirt from the playing field (the Yankees have sold hundreds of these), a sign that hung inside the old stadium (popular and affordable) or a chair from the locker room. The best way to get these items is when the stadium is first demolished. A quick call to the team's marketing department will let you know whether you can order an item to ensure it is held for you. If not, these items can be found through the usual collectible outlets like eBay. Those links are here too.
Another great stadium collectible is a special stadium photograph, usually a panoramic shot from days gone by. These photographs are easy to display and provide great ability to view the entire stadium or get a look at how it once looked. The way fans are dressed and their expressions offer a glimpse into the past. Some collectors like to pair these photographs with a die cast stadium replica for a special ballpark memorabilia display.
Another great item, but one that is not as easily found, is a lineup card
that was actually used at the stadium. In many cases, these are held for sale by the teams or its charitable arm. Older lineup cards are hard to find, since few were saved. Seeing the players' names and the details of the game, such as who pinch hit for the pitcher, bring the item to life and give a depth that true fans and collectors enjoy.
A search of eBay or a major card show like the National Sports Collectors Convention can help you find unique pieces of ballpark memorabilia that are meaningful to you. With a little research, you can find great items that enhance your collection—or start one.