The original Yankee Stadium played host to its first game on April 18, 1923. It served as the home ball park for the mighty New York Yankees from 1923 through 2008.
When first designed, the stadium was supposed to have three decks and a roof which completely encircled the stadium. However, these plans were later scaled down. Alterations were made regularly to meet changing needs. In 1928, the left grandstand was extended and in 1937 the right field grandstand was extended.
Yankee Stadium witnessed some of the greatest players in the history of the game as the Yankees drafted or traded for  one superstar after another. First, it was Babe Ruth and Lou Gehrig. Then Joe DiMaggio and Mickey Mantle. Derek Jeter and Mariano Rivera highlighted the modern era.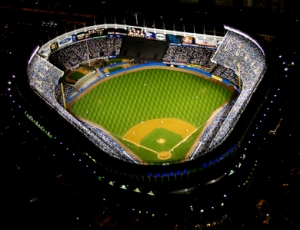 The original Yankee Stadium became dated by 1970's and needed renovations. It was closed temporarily in 1974 and 1975 and then the stadium's famous cantilevered decks were added. The roof structure was modified and brought up to modern standards. The stadium was reopened in 1976.
In the years after the renovation, the Yankees found new enthusiasm  and lived up to their reputation once again.  Thanks in part to the arrival of slugger Reggie Jackson and fiery manager Billy Martin, who often didn't get along, the Yankees won a pair of World Series titles in the late 1970s.
The club went through a dry spell in the 1980s and early 90s but the Stadium again saw glory as manager Joe Torre guided players like Jeter, Bernie Williams, Roger Clemens, Andy Pettite and Paul O'Neill to multiple post-season appearances and World Series championships over a ten-year stretch.
Original Yankee Stadium was aging, however, and with an opportunity to construct a new, similarly-designed park nearby, the franchise began the process of bidding farewell to baseball's most historic venue.
Yankee Stadium
hosted its last game on September 21, 2008 and soon after, memorabilia from the park was sold through Steiner Sports at auction and online.  Many items, including Yankee Stadium seats can be found through eBay and Amazon links here on VintageBallparks.com.