Detroit baseball fans' love for their old ballpark is evident in their desire for Tiger Stadium memorabilia.  The stadium is one of the most collected of all time.
Tiger Stadium was also known as Briggs Stadium or Navin Field. The Corktown neighborhood in Detroit was home to this famous ballpark which played host to the Detroit Tigers for 97 years from 1912 to 1999. The NFL's Detroit Lions also saw action at the Stadium from 1938 to 1974.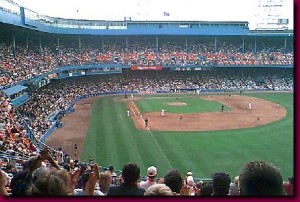 Tiger Stadium got the nickname "The Corner" since it was built at the corner of Trumbull Boulevard and Michigan Avenue. Tiger Stadium was opened on the same date in 1912 as Boston's Fenway Park.
When Tiger Stadium was opened, it was named Navin Field after owner Frank Navin. Later on, it took on the name of Briggs Stadium when Walter Briggs took over the team. It became Tiger Stadium in 1961.
Tiger Stadium
was also depicted in the baseball movie Tiger Town starring Roy Scheider and also in the film Raging Bull. It was also seen in the movies Hardball and Renaissance Man and more recently, *61, the story of Roger Maris' record-setting 1961 season.
Among the park's features was the upper deck in right field, which jutted some ten feet over the warning track. Spotlights below it lit up the dirt area so outfielders could see better. Hitting a ball over the right field roof was a goal for many power hitters. 19 players did it a total of 28 times.
The park was rich in history with Hall of Fame greats like Ty Cobb, Hank Greenberg, Mickey Cochrane and Al Kaline playing the bulk of their careers in Detroit. In later years, the Tigers captured two World Series titles in dominant fashion—1968 and 1984.
Tiger Stadium's last game was in September of 1999. The Detroit club moved into the new Comerica Park the following season and Tiger Stadium memorabilia, including seats from the park was sold off.  Much of it has made its way onto eBay.