Three Rivers Stadium, situated in Pittsburgh, was a multi-purpose stadium that was in existence from 1970 to 2000. Its time in the spotlight may have been brief, but it was the home of champions for much of that time.
Pittsburgh welcomed the new stadium as the Pirates said goodbye to the ancient Forbes Field. About $55 million was spent on constructing this relatively short-lived stadium.  Construction began in 1968 and it took 29 months for Three Rivers to be fully functional. It was finally opened on July 16, 1970.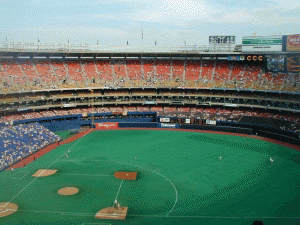 Hailed as state-of-the-art, Three Rivers Stadium was circular in design, and very similar to Riverfront Stadium in Cincinnati and Busch Stadium in St. Louis. It's location was responsible for the name, situated as it was near the confluence of the Allegheny and Monongahela River, which forms the northern end of the Ohio River.
The Pirates were a contender when the park opened. They hosted the National League championship series in 1970—the first played on artificial turf and in 1971, Three Rivers played host to the first World Series game that was played at night.
Roberto Clemente, Willie Stargell and the Pirates were a formidable foe in the early 70s and fans turned out in droves. In 1979, Stargell was still playing and the Buccos would win another World Series title while based at Three Rivers.
The stadium was really suited more for football and the Steelers fared better at the gate and on the turf. In fact, they enjoyed massive success there, bringing multiple championships to the city with the 'Steel Curtain' defense and prolific offense led by quarterback Terry Bradshaw.
Three Rivers Stadium was imploded on February 11, 2001. 4,800 lbs of explosives were used for the 19-second explosion to bring down the stadium down. The two tenants would each move into new homes; Heinz Field for the Steelers and PNC Park for the Pirates.