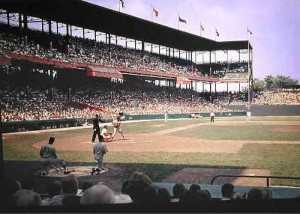 Sportsman's Park was home to the St. Louis Browns and later the St. Louis Cardinals. The Browns were the city's the American League franchise and the Cardinals represented the National League.  The Browns would eventually leave to become the Baltimore Orioles.
Sportsman's Park hosted games as early as 1867.   August Solari bought the piece of land and began to arrange games there.  The Stockings played here from 1875 to 1877. The first name given to the stadium was Grand Avenue Ball Park but it was renamed as Sportsman's Park in 1876. This was the name with which the stadium was to gain fame.
Sportsman's Park was the home of the famous Cardinals' "Gas House Gang" teams of the 1930s with stars like Dizzy and Paul Dean, Ducky Medwick, Leo Durocher and Pepper Martin.  They were far from sophisticated, but much beloved by the baseball-loving fans of the Midwest.  Later, Enos Slaughter and Stan Musial provided more thrills with their Hall of Fame careers.
Sportsman's Park closed after the 1965 season as the Cardinals moved into their new digs near the Mississippi River called Busch Stadium which was replaced by the "new" Busch Stadium after 40 seasons.