Shibe Park became the first steel and concrete stadium for any Major League baseball team.
The park, which was just five blocks from Baker Bowl, was bound by 21st Street, 20th Street, Lehigh Avenue and Somerset Street.
The American League's Philadelphia Athletics  opened the stadium in 1909 after they moved out of Columbia Park.
Connie Mack, along with Benjamin Shibe, initially owned the park and the park took the name of the latter. Though  Mack gained complete ownership a little later, the name remained unchanged until 1953 when it was renamed Connie Mack Stadium.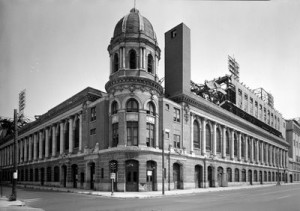 The Phillies and A's called Shibe Park/Connie Mack Stadium home at various times, but the A's were the team that saw the most success here. They played in seven World Series, including four in five years from 1910-1914 and three straight from 1929-31. Jimmie Foxx, Chuck Klein and a host of sluggers were joined by ace pitcher Lefty Grove in the latter era. Eddie Plank and Ty Cobb starred for the A's at one time.
Shibe Park hosted plenty of historic moments during its glory. Babe Ruth hit two home runs in two different games that reportedly each covered a distance of more than 500ft.  Lou Gehrig and Dick Allen are also credited with hitting some booming drives in this stadium.
Shibe Park also played host to the first Negro League games in 1919 and hosted the Philadelphia Eagles from 1940-57 and other NFL games much earlier in the century.
The "rooftop bleachers"  atop buildings just across from the ballpark became  bone of contention for the tight-fisted Mack during the 1920s.  The seats allowed fans to see the action for free, much like those living on Waveland Avenue across from Wrigley Field. A taller fence installed by Mack put an end to the fun, but those bleachers became the inspiration for the 21st century construction of a special area in the Citizens Bank Park, current home of the Philadelphia Phillies.
Fans virtually destroyed the ballpark on the final day as an active stadium in 1970. Toward the latter part of its existence, the park sat empty and had lost all its glory. A raging fire in 1971 just worsened the situation and the park was finally razed in1976. Today, on the grounds of the stadium that saw so many ballgames played stands the Deliverance Evangelistic Church.
Shibe Park also was one among the ten historic ballparks feted on the USPS stamps "Baseball's Legendary Playing Fields" that were released in 2001.