Shea Stadium was located in the Queens borough of New York City in Flushing Meadows Corona Park. This stadium was the home ballpark of the New York Mets for 44 years starting in 1964 and ending in 2008. This multi-purpose stadium, in addition to hosting baseball games, also served as home for the New York Jets.
The initial plan was to name the stadium as the "Flushing Meadow Park Municipal Stadium" but it was instead named after the person who brought  National League baseball back to New York, William A Shea.
After a total expenditure of $28.5 million and 29 months of construction, Shea Stadium was opened April 17, 1964.  Since the stadium was situated very close to La Guardia airport, the sound of the flights often drowned the voice of the radio and television broadcasters. In order to minimize the sound from the flights, certain modifications were made to the stadium.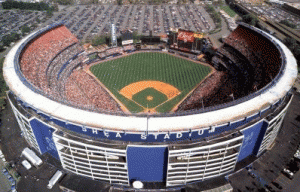 Shea was a lively place, especially in the 1960s as the Mets moved from laughingstock to improbable World Series champion and is still remembered for hosting two Beatles concerts in 1965 and '66.
The '69 Mets are among one of baseball's all-time favorite teams. Featuring a young Tom Seaver and Nolan Ryan, the club shocked the Baltimore Orioles to win the club's first ever World Series. The franchise would repeat the feat in 1986 when Mookie Wilson's ground ball got through Bill Buckner's legs in game six, forcing a seventh and deciding game that the Mets won.
Shea was home to one of the more unique features during its day. A "Mets Magic Top Hat" sat in the right-center field area beyond the outfield wall. When a Met would belt a homer, a red "apple" representing The Big Apple would rise out of the top hat.
In 1974 and '75, the Mets had roommates at the stadium when the Yankees moved in and played home games during the Yankee Stadium renovation project.
After 44 years of successful existence, Shea Stadium was demolished in order to accommodate extra parking space for Citi Field, the new home of the Mets.