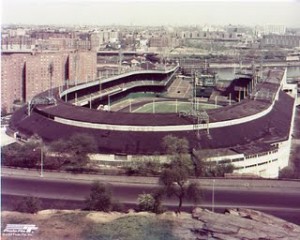 The Polo Grounds, as the name suggests, was built for playing polo in the year 1876.  The Polo Grounds were bound by Fifth Avenue on the East, Sixth Avenue on the West, 110th Street on the North and 112th Street on the South.
From 1880 to 1885, the New York Metropolitans played on the property. Between 1883 and 1957, it was New York Giants. The New York Yankees used the stadium in 1912 and 1922 and finally, the expansion New York Mets played there during their first two seasons in 1962 and 1963.
The most famous and longest-running tenants, however, were the Giants who enjoyed a long and successful run in the nation's largest city, winning championships under legendary manager John McGraw and pitcher Christy Mathewson in the early 20th century.
Mel Ott slugged homers for the Giants from 1926-1947, playing his entire career with the Polo Grounds as a slugger's theatre.
The most famous game of all time is the 1951 playoff at the Polo Grounds, decided on a walk-off homer hit by Bobby Thomson against Dodgers' reliever Ralph Branca. "The Giants Win the Pennant!" screamed radio announcer Russ Hodges. "They're going crazy! They're going crazy!"
One of the earliest multi-purpose stadiums to host major events, the Polo Grounds hosted NFL Championship games in 1934, 1938, 1944 and 1946.
The Polo Grounds saw quite a few boxing matches, the most famous of all being the heavyweight championship bout between Luis Firpo and Jack Dempsey.
The Giants left New York for San Francisco following the 1957 season and after hanging on for a few years, the stadium had to be razed because of poor maintenance and decline in the neighborhood. The Polo Grounds was demolished completely in 1964 and the area became a public housing project.