Milwaukee County Stadium was built in the early 1950s with the hope of attracting a Major League Baseball team to the city.  The dream was realized when the Boston Braves decided to relocate to the new, 36,000-seat ballpark just in time for the 1953 season.
The Milwaukee Braves were an instant hit with fans across the Upper Midwest.  They were embraced across Wisconsin, which welcomed players with free gifts and services and came to the ballpark in huge numbers.  Milwaukee led the league in attendance and thanks in part to young stars like Hank Aaron and Eddie Mathews, plus veteran lefty Warren Spahn, the Braves would win the World Series in 1957 and return in 1958, each time meeting the Yankees.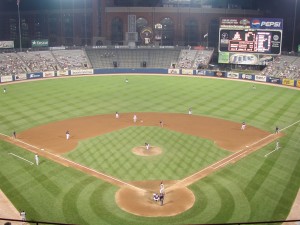 County Stadium was quiet after the Braves left for Atlanta in 1966, but local businessman Bud Selig brought the White Sox north for some games in the late 60s and then successfully convinced the Seattle Pilots to sell the franchise to him after only one season in the Pacific Northwest.  They became the Brewers, who occupied County Stadium from 1970 through 2000 when the team moved to new Miller Park.
County Stadium had some interesting features. From 1953-73, patients at the National Soldiers Home, located on a hill above the right field stands were able to watch the games for free from the lawn area outside their rooms.   That tradition ended when the Stadium expanded its bleacher seating.
Bernie Brewer, a costumed character sat in a chalet above the left field stands, travelling down a slide and into a giant "beer mug" after each Brewers home run.
The Brewers enjoyed success in the early 1980s and 90s when future Hall of Famers Robin Yount and Paul Molitor were local heroes.  Yount collected his 3,000th hit at County Stadium and Nolan Ryan beat the Brewers to earn his 300th career win there.
County Stadium may have been state of the art in the 1950s, but it lacked charm, had some obstructed view seats and no luxury boxes that teams began craving by the 1990s.  It's days became numbered and owner Bud Selig insisted he needed a new stadium to keep the Brewers in Milwaukee for the long term.
County Stadium was demolished in the winter of 2001.