Metropolitan Stadium, commonly called "The Met", stood in the Minneapolis suburb of Bloomington. Built in 1956, the stadium was originally home to Minneapolis Millers, a minor league baseball team.
The city of Minneapolis paid for the construction of this stadium though it was located in Bloomington. This stadium was nestled in the middle of what was once a very large cornfield with provision for ample parking space.  In 1959, Metropolitan Stadium was expanded to prepare the Twin Cities for the arrival of the team that still calls the area home.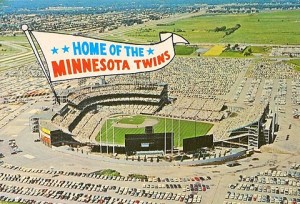 The Washington Senators would move to the Twin Cities in 1961 and the newly-named Twins called the Met home from 1961-1981. They were forced to share the facility with the Minnesota Vikings, who joined the NFL at around the same time as an expansion franchise.
Minnesota's cold weather in the spring and fall made the Stadium a challenge for players and fans to remain comfortable. The weather didn't bother some of the Twins stars, though. Harmon Killebrew helped them get to the World Series in 1965.  Rod Carew would arrive not long after and win a string of American League batting titles while hitting at the Met.
Eventually, the popularity of Metropolitan Stadium began to decline due to poor maintenance. Another factor that proved to be the death knell for the stadium was the fact that it could not seat more than 50,000 people. Hence, in the 1970s, when NFL declared that stadiums below 50,000 seating capacity were no longer permitted, the stadium suffered a big blow. The last Twins game was played at the Met in 1981 as the team prepared to move into the new Hubert H. Humphrey Metrodome.
On 28th January, 1985 the demolition of Metropolitan Stadium began and lasted four months. Today, the Mall of America stands on this site.