Memorial Stadium stood on 33rd Street in Baltimore. It was situated on a large block and was surrounded by 36th Street on the north, Ednor Road on the east and Ellerslie Avenue on the west.
Two different stadiums were situated on the same land where Memorial Stadium stood. The first incarnation, built in 1922, was called Baltimore Stadium. Veneble Stadium and Municipal Stadium were also the other names given to the first stadium. The final structure was completed in 1950 and took the name it would be known by for the next 40 years. For a short span of time, the stadium was also known as Babe Ruth Stadium in honor of the great Bambino, a Baltimore native who had recently passed away.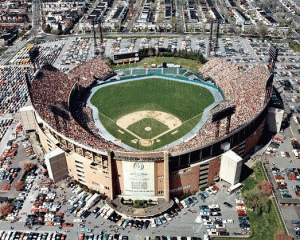 Construction on the modern era Memorial Stadium started in 1949 and was accomplished in stages. It would become the first big league park constructed entirely of reinforced concrete.
Memorial Stadium would host the Orioles and the Baltimore Colts of the NFL, both equally loved by a passionate fan base. In the fall, Johnny Unitas and his teammates provided the thrills. In the spring and summer, it was the Orioles.
Memorial Stadium had a neighborhood feel with trees goring on an embankment just beyond the center field fence. A picnic area built in the upper deck during the 1960s called Oriole Landing, drew generations of families. Crab cakes were served at the concession stands.
The Orioles featured stars like Brooks Robinson, Frank Robinson and Jim Palmer during a glorious run from 1966-72 when the franchise was among the best in baseball. In the early 1980s, the O's built another excellent team led by a young Cal Ripken Jr. who played much of his career there.
In December of 1976, just minutes after an AFC playoff game between the Colts and Pittsburgh Steelers, a single engine plane crashed into the upper deck behind home plate. It was a bizarre scene, but fortunately most spectators had already headed for the exits and the pilot would survive.
Memorial Stadium's last Orioles game took place in 1991 and the club moved to Camden Yards, a throwback park that put the old stadium to shame. Memorial Stadium was demolished a decade later.