Griffith Stadium stood at the corner of W Street, NW and Georgia Avenue in Washington DC and was in existence from 1911 to 1965.
Prior to its construction, a wooden baseball stadium that was built in 1891 stood on the same site. Since the team that occupied the stadium was nicknamed the "Nationals", the stadium was called National Park or Boundary Field.
The wooden stadium was destroyed in a fire in March 1911 and a new stadium that was built in its place was made of concrete and steel. It was called Griffith Stadium after the owner of the Washington Senators, Clark Griffith.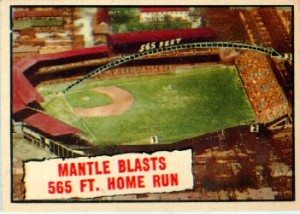 The ballpark's quirky construction helped it fit inside the city block on which it stood.
The Washington Senators of the American League made this their home stadium from 1911 to 1960. Walter Johnson was among the greats who pitched there. Griffith Stadium also hosted the Negro League's Homestead Grays, for around a decade, from the 1930s to the 1940s. Josh Gibson was said to have hit some monstrous homers while hitting there. In 1953, a young Mickey Mantle hit a home run at Griffith that was informally measured as having traveled 565 feet.  It was commemorated on a Topps card in 1961 (see them on eBay here).
It was at Griffith Stadium, that President William Howard Taft initiated the tradition of US presidents throwing the ceremonial first pitch.
Griffith Stadium saw its last game in September of 1961 and was finally demolished in 1965. Today, Howard University Hospital stands in its place.