Forbes Field was the first home of the Pittsburgh Steelers and the third home of the Pittsburgh Pirates. From 1909 to 1924, this stadium was also the home football field for the University of Pittsburgh Panthers.
The ballpark was named after a British general who fought in the French and Indian war.
Forbes Field was made of steel and concrete to ensure longevity.
Forbes opened in 1909 with a matchup between the Pirates and Chicago Cubs. The last game, played in 1970 just as the team was preparing to move to Three Rivers Stadium, was also between the two teams.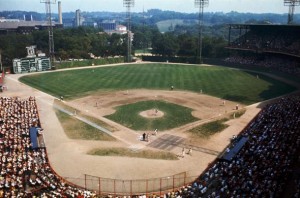 Featuring ivy on its brick outfield wall in the left and left-center field, Forbes Field was among those old parks that had plenty of ususual features. Fans seated in the far left corner of the bleachers above left field could not see home plate because the third base grandstand jutted out between their seats and the batting area.
Forbes saw plenty of history.
Honus Wagner played much of his career there. Babe Ruth hit the last three home runs of his career in the ballpark. Roberto Clemente got his big league start in the Pirates outfield during the mid-1950s while thrilling Pittsburgh fans with his grace in the outfield and multiple offensive skills.
The Pirates won three World Series while calling Forbes their home, including the famous 1960 upset of the Yankees on Bill Mazeroski's dramatic home run that sailed into the trees. The historic baseball has never been identified and remains one of the memorabilia market's holy grails.
In addition to baseball, the park also saw plenty of football action as well as professional boxing and other events.
Sixty years after it came into existence, Forbes Field began to show signs of wear and tear. The structure suffered damage in the two fires that struck the park in 1970 and 1971. Finally, eleven days after the second fire, was razed to the ground and completely demolished.