Ebbets Field was located in Brooklyn, New York as home to the National League's Brooklyn Dodgers.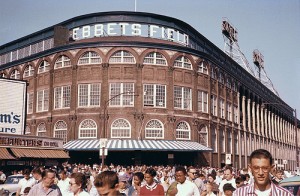 Ebbets Field was surrounded by Sullivan Palace, Bedford Avenue, Montgomery Street and McKeever Palace. Charlie Ebbets, who was the owner of this stadium, started acquiring parcels of land in 1908.  Once he became the owner of the entire block, he began construction in 1912. The land on which construction began also included a site called Pigtown, which was literally populated by hogs eating their daily meal, emitting a foul stench.
A year after construction began, the entire area, including Pigtown, stood transformed as the Ebbets Field.  The ballpark would become a shrine for baseball lovers, witnessing high drama and becoming a fixture in Brooklyn until it was demolished in 1960...three years after the Dodgers played their last game in the borough.
Ebbets Field
has a lot more memories and nostalgia surrounding it than any other defunct parks. In its relatively short span of 45 years as the home stadium of the Dodgers, Ebbets had a great deal of history associated with it. A lot of baseball fans were left heartbroken when their favorite team moved to Los Angeles following the 1957 season.
Toward the latter years, many fans who attended the games there felt Ebbets was not architecturally well designed to seat a large number of people.  After much wrangling, owner Walter O'Malley moved his Dodgers west.
Today, Ebbets remains fixed in the minds of those who remember her as an icon of the golden era of baseball. In its place, stand the Ebbets Field Apartments,  later renamed as Jackie Robinson Apartments.