Crosley Field was the home of the Cincinnati Reds for the better part of six decades.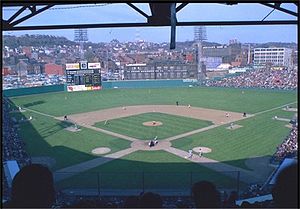 Redland Field, as Crosley Field was first called, was built in 1912. The architect was Harry Hake and the cost to build was $225,000.  It was one of the smallest fields built with a capacity of a mere 25,000.  Outfield seating was present in the right field known as the Sun Deck. It was called, appropriately, the Moon Deck in night games. Mathias "Matty" Schwab was the groundskeeper hired in 1894. He laid sod for the first time in 1912 for the first Reds game. The Reds won that first game against Cubs, rallying to win 10-6. Matty would be the groundskeeper until 1963 when he'd turned 83 years old.
In 1919, Redland Field was the scene of much of the infamous Black Sox scandal, when members of the Chicago White Sox were accused and later punished for conspiring with gamblers to fix World Series games.
Redland Field came to be known as Crosley Field in 1934 when the Reds were bought by Powell Crosley. The team president, Larry MacPhail insisted the field be named after Crosley. This was just after the Great Depression and MacPhail convinced the owners that the team needed night games to survive.
In 1935  Crosley Field got lights and the first night game in baseball history was played there on May 24  when the Reds met the Phillies.
The Reds had moderate success in the 1950s and 60s with their greatest star, Frank Robinson, shining brightest.
Ironically, just as the stadium was about to close, the Reds were building a superstar lineup. Pete Rose, Johnny Bench, Tony Perez and other members of the Big Red Machine got their start in the final years at Crosley Field before the club moved to the multi-purpose Riverfront Stadium.