Comiskey Park sat on Chicago's south side from 1910 to 1990. The Chicago White Sox played in this park which was designed by Zachary Taylor Davis and built by Charles Comiskey. The park was host to four World Series and over six thousand major league games.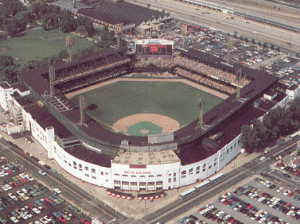 In 1909, Comiskey bought a city dump to replace the South Side Park. It was on this site that he built Comiskey Park. For the first three years, this stadium was referred to as the White Sox Park because the Chicago White Sox played there. However, it was later renamed as Comiskey Park in honor of the White Sox owner and founder. Though they reverted to the former name in 1962, it didn't go down well with the public and retained the latter name until its demise.
When built, Comiskey was called "The Baseball Palace of the World" because it had a very contemporary design well ahead of those times. This was the third steel and concrete stadium in the American League and fourth in the Major Leagues.
In 1937,  Comiskey Park also saw some boxing action during the heavyweight title match between Joe Louis and James Braddock.
Comiskey Park also hosted Negro League Games.  Many other professional soccer and football games were also played there over the years.
The new owner of the White Sox, Jerry Reinsdorf, built a new stadium for his team and old Comiskey Park was finally demolished in  1991.
The "new" Comiskey Park was opened in 1991 and was built on 35th street, south of the first park.  While it was later renamed US Cellular Field for its corporate sponsor, many still refer to it as Comiskey.