Cleveland Municipal Stadium was also known as Lakefront Stadium, Cleveland Stadium and a less flattering nickname: "The Mistake by the Lake". It was the one of the earliest multipurpose stadiums that was designed for both baseball and football.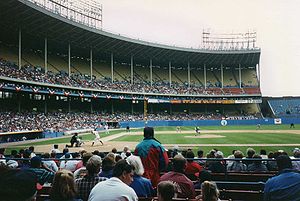 Municipal Stadium was one of the few that had used structured aluminum for construction as it prepared to open on July 1st 1931 after much public wrangling. Among its first big events was the World Heavyweight Boxing Championship held just two days later that was contested between Young Stribling and Max Schmeling in which the latter retained the Heavyweight Championship.
The Indians set up shop in Cleveland Municipal Stadium on July 31, 1932 and played there exclusively until September 24, 1933. Typically only Sunday and holiday games were played in the big ballpark until Bill Veeck took ownership of the team and it once again became the team's primary home in 1947.
Municipal Stadium would be the place where Joe DiMaggio's 56-game hitting streak came to an end in 1941. Tribe third baseman Ken Keltner's sparking defense stopped Joltin' Joe in his final at bat of the day.
The Indians reached the World Series in 1954 and for the first Series game played at Municipal Stadium, the Indians played in front of their largest crowd ever, 86,563. It was a Major League record that stood until the Dodgers moved west from Brooklyn and played at the cavernous Los Angeles Coliseum for a few years.
While Cleveland fans enjoyed the exploits of players like Bob Feller, Rocky Colavito and others, they rarely enjoyed success. Situated close to Lake Erie, bugs were often a problem as was windy, cold weather. Few tears were shed when the team began seeking a new home.
The stadium was demolished in November 1996 as Cleveland's long-running baseball team moved into Jacobs Field, now called Progressive Field.