Braves Field  initially stood on Commonwealth Avenue in Boston.  From 1915 to 1952, this field served as the home stadium for the National League's Boston Braves.   Today, the Nickerson complex that stands in its place retains large portions of the original structure.
For a period of five years, from 1936 to 1941,  Braves Field was also called The Bee Hive because the owners of the stadium renamed the home team to Boston Bees. However, both these names fell flat and did not go well with the public. Hence, the usage of these names was discontinued and the reverted to the original In 1936, Braves Field played host to the Major League Baseball All Star Game.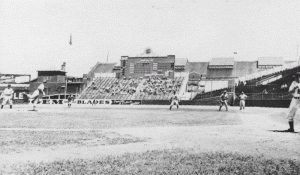 Braves Field was one of the two homes of the first American Football League team, Boston Bulldogs. It also served as the home stadium to Boston Shamrocks from the second American Football League. A National Football League Franchise, also called Boston Braves, made this field their home stadium for a year. This was the team that later on moved south and became the Washington Redskins.
James Gaffney, who was the owner of the stadium, wanted to build a structure which could allow for a lot of inside-the-park home runs. Hence, he built this stadium on a huge plot of land on the then outskirts of Boston. With the advent of the lively ball era, baseball fan grew unhappy about Gaffney's vision  and many changes were made, including moving the complete field in a clockwise direction at one point.
Finally when Boston Braves moved to Milwaukee,  Braves Field was sold to Boston University.   The  stadium that was called Boston University Field is now referred to as Nickerson Field.