One of the most popular ballparks that stood in Philadelphia, Pennsylvania was the Baker Bowl. Situated on a city block that was bound by West Lehigh Square, North Broad Street, North 15th Street and West Huntingdon Street, the Baker Bowl was home to some of the greatest players in baseball during the late 19th and early 20th centuries.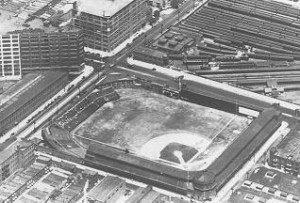 The Baker Bowl was formally called National League Park, a name that was painted on the outer wall. The other names that were used to refer to the ballpark were Philadelphia Baseball Grounds and Philadelphia Park.
The Baker Bowl stadium was initially constructed in 1887.  It was considered to be one of the most modern ballparks of those times and was praised in the media when it was opened. A low wall encircled the outfield. Bleachers were built much later in left field and many other extensions were added to the right field's low wall. One of the extensions added was a fence--an addition that didn't sit well with the players and the public.
The Baker Bowl stadium was rebuilt and the second version was opened in 1895. This stadium went down in history books for incorporating the cantilevered design for a sports stadium. It also garnered popularity for being the first baseball park to be constructed using brick and steel. The second incarnation of this stadium had a spacious foul ground which is the reason the pitchers took a liking to it though most of the other features were frustrating.
In addition to hosting a large number of  big league baseball contests,  Baker Bowl also hosted Negro League games and also many rodeo events. The latter  were conducted in order to raise funds when the grounds were not in use.
Known as a hitter's park, Chuck Klein and Ed Delahanty enjoyed great seasons at the Baker Bowl.
Woodrow Wilson became the first president to appear at a World Series game when he attended in 1915.
Among the park's milestones: June 9, 1914, when Honus Wagner collected his 3,000th career hit and on May 30, 1935 when Babe Ruth played his last major league baseball game as a member of the Boston Braves.
After enjoying a period of fame and glory, the Baker Bowl fell prey to many calamities. First, there was a fire that destroyed the stadium. Once the damage had been fixed, the stadium collapsed twice when a huge crowd had gathered to watch some games, resulting in death and injury. Finally, a stadium that was once considered to be the best ballpark became a butt of jokes years later. It was demolished in 1950, some 13 years after the final big league game was played there.