Billed as the 8th Wonder of the World when it was built in the mid-1960s, the Astrodome in Houston, TX was the first baseball park ever built with a roof.
The stadium was the brainchild of Judge Roy Hofheinz, who envisioned a climate-controlled facility that would help his hometown attract Major League Baseball. It got off to a rocky start, but wound up serving as the Houston Astros' home park from 1965-1999.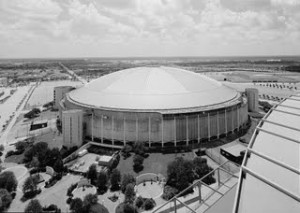 Seats in the ballpark were cushioned and the facility was air-conditioned—making the place seem more like a theater. An expensive electronic scoreboard was the first of its kind and set a trend across all sports by the late 1960s. Costing $35 million, the Astrodome was originally called Harris County Domed Stadium.
Mickey Mantle hit the first home run in the Astrodome, during a Yankees-Astros exhibition game. Grass had been planted prior to the park's opening, but after ceiling tiles were painted to keep outfielders from losing fly balls in the semi-transparent roof, the grass died and was painted green. By the middle of 1966, a new artificial surface had been installed. It would eventually be known as AstroTurf.
The Astrodome's roof rose 208 feet above the diamond. In 1974, Phillies' third baseman Mike Schmidt hit a ball off a suspended speaker. Such things were in play and when the ball dropped back onto the field, the frustrated Schmidt was held to a single.
The Astros enjoyed a variety of good, bad and mediocre seasons in the Dome. They were among the National League's best in the mid-1980s and Jeff Bagwell and Craig Biggio re-ignited the franchise when they arrived in the early 90s.
The Astrodome hosted a number of memorable events besides baseball. In 1968, the UCLA-Houston showdown was held there with Lew Alcinchor and UCLA squaring off against Houston and Elvin Hayes in college basketball's "game of the century". In 1973, it played host to the Battle of the Sexes tennis match between Billie Jean King and Bobby Riggs. After the Astros had left for their new retractable roof park in 2000, Louisiana evacuees from Hurricane Katrina stayed there.
The Astrodome's future is uncertain, but it remains a fixture in Houston.