Once upon a time, vintage stadium seats were thought of as disposable.  Durable, yes.  But nothing more than a place to plant your bottom as you watched baseball.
Now, they're considered high end collectibles.
Baseball memorabilia has gained mainstream respect and collecting ballpark seats is among the hottest forms of collecting as well as one of the more practical ways to decorate a rec room, 'man cave' or office.
Some don't necessarily "collect" them.  Fans who just wanted a piece of Yankee Stadium memorabilia to call their own before the wrecking ball arrived gravitated toward the seats where they watched so many great players.  They bought pairs of seats for anywhere from $1200 to $1600 just to preserve their memories of the old ballpark.  It was a far cry from the last time the Yankees offered them up.  That was in 1973 when the team got ready to renovate the House That Ruth Built and fans were carrying them out after the season's last game or acquiring them for empty Winston cigarette packs.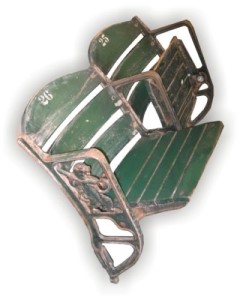 Not all vintage stadium seats that you'll find for sale are that expensive.  Busch Stadium in St. Louis and Tiger Stadium in Detroit offered them to fans at lower prices.  Minor league stadiums who sell their old seats get far less.
They're not the most comfortable, of course.  But there's something about being able to sit in the same place so many fans once did that's kind of cool.  They don't really take up much space compared to other pieces of furniture and if they're properly renovated, they're very colorful.
Some collectors prefer their seats to be completely original, however.  Same old, chipped paint, original wood.  It lends an air of authenticity, of course, but you'll want to make sure all of the bolts are still tight!  Unrestored seats from historic ballparks will command a heavy premium on the open market, especially if few have been preserved.  Seats from parks like Ebbets Field and the Polo Grounds are especially sought after and quite rare.  A pair of Fenway Park seats from the original construction in 1912 recently sold for over $5,000.  Pairs of seats will typically bring more than an individual seat.
Many collectors love the seats from the first half of the century that have the 'figural' design in the wrought iron below the armrest.  Many old ballpark seats had the team logo or other identifying mark as part of their design.  The New York Giants' famous "NY" was part of the original Polo Grounds seat design.  Very old Crosley Field seats carried a "C" in the wrought iron.  These seats will sell for much more than later seats without such a design since very few have survived the decades and the demand among collectors and fans is so great.
The type of ballpark seats you like is really personal preference.  The good news is that most post-War type chairs will cost in the hundreds of dollars, not thousands.   Be prepared to pay a significant amount for shipping unless you live close enough to pick them up, but also be prepared to fall in love with baseball all over again once they arrive.
To see vintage stadium seats for sale on eBay, click here.